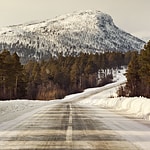 It is a good idea to be prepared for emergencies any time you hit the road. That is particularly true in the winter, when a breakdown can get dangerous quickly. The team at Hendrick MINI recommends putting a winter survival kit together and keeping it in your vehicle at all times.
If you find yourself stuck in the snow, a small shovel may be all you need to get going again. They make shovels that fold so they are easier to fit in your car. Be sure to also have gloves to protect your hands while you are digging yourself out.
Cold weather can be a problem for car batteries. Although you should always carry jumper cables, this is especially important during the winter months. Have a blanket, snacks, and water available in case you need to wait for a tow truck or a ride.