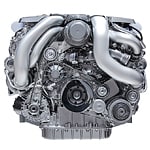 Everybody gets a good feeling when their car is clean. However, cleaning the body of the car is not enough. Cleaning the car's engine is equally important as cleaning its body. Here are a few steps on how to easily clean an engine.
Refresh
Ensure to cool off your engine for at least 20 minutes. A hot engine can burn you. Cooling off the engine with cold water can cause damage to the engine.
Disconnect
Remove the plastic covers for they can be washed separately. Also, remove the batteries' negative terminals to protect them from getting damaged.
Cover
Cover…
Read More