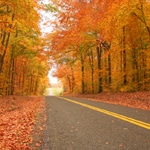 As the summer heat starts to dissipate and temperatures cool off, autumn is one of the best times to be in New England. If you are planning a leaf-peeping excursion to the north country, a little planning and preparation can go a long way in making sure that your trip is a success.

Understand the Science

You don't have to have a formal background in environmental science or biology, but knowing a bit about photosynthesis and the process of autumn leaves changing color is helpful. That way you can look at the leaves in different lighting and from various angles to see all the colors at play.

Use a Map

Using a map is one of the top trims for a leaf-peeping road trip. Not only will a map get you to where you need to go, but it can also help you plan your trip in its entirety by suggesting other resources such as vista points and accommodations.

Get up Early

Getting a head start to your day is also key. Rising early means you'll beat the crowds and get spectacular dawn colors.